Thank you to Blendtec for generously providing the Designer 725 & Twister Jar for this giveaway! The recipeand opinions in this post are 100% mine.
Love an alfredo sauce but would rather eat something a little lighter without sacrificing flavor? This is the meal for you! Totally dairy-free and vegan alfredo that is full of strong flavor for your whole family.
Being a food blogger, I always feel like I need the best of the best in my kitchen.
The best ingredients. The best gadgets. The best appliances. Of course, I only want to bring you quality, ya know?
But then something happened. I realized I was really only using the same few items over and over again. Most of what I had was just collecting dust, and it turns out it was time to take a minimalist approach.
Immersion blender - off to the thrift store.
Expensive and large juicer - sold on the classifieds.
Grain Mill - time to thrift that baby.
Coffee & Spice Grinder - you're takin' up too much space.
Food Processor - do people still use those things?
Hand mixer - definitely passing that on to someone else who can use it.
[Tweet "I got rid of all my kitchen appliances for just one that does it all!"]
Cause you know what? Although having all these appliances and gadgets was fun, they were taking up space and collecting a thick coating of dust.
So how was I able to chop, grind, and pulse things without all these awesome specialty tools?
Oh my dear friend, my Beloved Blendtec came in to save the day a few years ago, and I'm not sure how I ever lived without her. Seriously.
She does all.the.things!
She makes the best green smoothies with no gross chunks of spinach. She makes the best sorbet. She even makes soups and sauces!
And that is what I'm showing you today. This sauce is one of my absolute favorite sauces to make. I'm sure you've actually already seen it all over the web. Cauliflower sauce was made famous by the brilliant Lindsay of Pinch of Yum, and I knew I had to highlight it over these veggies to create a yummy vegan dish for you... that totally doesn't taste vegan.
The thing is, I couldn't have gotten such a smooth and creamy sauce using just a regular blender or an immersion blender. I'm pretty sure my cover would've been blown. My kiddo would've realized that the sauce wasn't milk, butter, and cheese as soon as he got a big chunk of cauliflower. Total mom fail, right?
Do yourself a favor and save yourself from that fatal mistake. You've got to get yourself a Blendtec.
OR maybe today is your lucky day!
I've teamed up with some of my amazing blogging chicks to give away this whole Blendtec prize package. Dude, look at everything you could win!
Grab the recipe real quick, then scroll down to see what my friends are making with their Blendtec and enter to win the grand prize. I REALLY hope you win!
[Tweet "You need a Blendtec in your life - Enter to win this $950 package! #giveaway"]
My Blendtec is just one of the tools I use to get healthy. There are a few others... plus you're going to need to know what foods I stock my kitchen with at all times. Grab this free guide to make sure your kitchen it prepped for your healthiest life.
Ingredients
1

large spaghetti squash

1-2

Tablespoons

extra virgin olive oil

1

head of broccoli

, chopped

8

ounces

mushrooms

, sliced
For the Sauce:
8

large cloves garlic

, minced

2

Tablespoons

butter

5-6

cups

cauliflower

, chopped

6

cups

vegetable broth

1

teaspoon

salt

½

teaspoon

pepper

½

cup

unsweetened almond milk
Instructions
For Spaghetti Squash:
Preheat oven to 400 degrees F. With a large and very sharp knife, cut the spaghetti squash in half long-ways. With a spoon, scrape out the seeds and "guts." Drizzle with olive oil. Turn flesh-side-down in a 9x13 baking pan. Bake for 50-60 minutes, until tender with pierced with a fork. Remove from oven, and with a fork, scrape out the flesh to create spaghetti squash "noodles."
For Broccoli & Mushrooms:
In a large pot, heat a couple inches of water to medium heat. Using a metal steamer in the bottom of the pot, place broccoli and mushrooms in and steam until broccoli is bright green and tender.
For Sauce:
Saute the minced garlic with butter in a large nonstick skillet over low heat. Cook for several minutes or until garlic is soft and fragrant. Remove from heat and place in blender.

Bring the vegetable broth to a boil in same large skillet. Add cauliflower and cook, covered for 7-10 minutes or until cauliflower is very tender and falls apart when pierced with a fork. Do not drain.

Use a slotted spoon to transfer cauliflower to the blender with garlic and butter. Add 1 cup of the cooked vegetable broth, salt, pepper, and almond milk. Blend for several minutes until the sauce is very smooth, adding more broth or milk depending on how thick you want the sauce.
To Assemble:
Top spaghetti squash with steamed veggies and hot cauliflower alfredo sauce.
If you make this amazing recipe, make sure you snap a pic and upload it to Instagram. Don't forget to tag me (@happyfoodholly)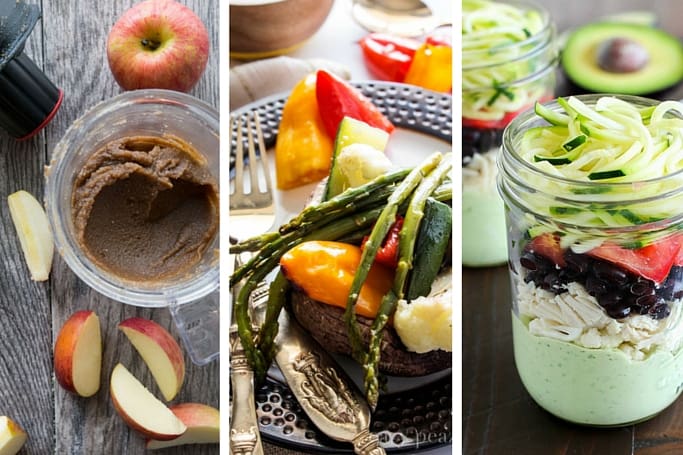 Be sure to check out each of these fantastic recipes that you can make in your blender from the following bloggers! Maple Pecan Butter / Tried and Tasty Roasted Veggie Stuffed Portabella Mushrooms with Blender Tomato Basil Cheese Sauce / Eazy Peazy Mealz Southwest Zucchini Noodle Mason Jar Salad w/Avocado Dressing / Yummy Healthy Easy Cauliflower Hummus / Dessert Now Dinner Later Roasted Red Pepper Zoodle Casserole / Food Faith Fitness 2 Ingredient Strawberry Mint Sorbet / Rachel Cooks Creamy Tomato Basil Soup (Dairy-free!) / La Fuji Mama Cauliflower Alfredo Zoodles with Asparagus & Tomatoes / Life Made Sweeter Vegan Spaghetti Squash Alfredo / Happy Food Healthy Life Giveaway runs from Sunday April 10th 6:00 am MST to Saturday April 16th 11:59 PM MST The giveaway is available to US and Canada Residents Only!
a Rafflecopter giveaway