Beet Pancakes {Guest Post}
August 21st, 2013 | Posted by in
Mains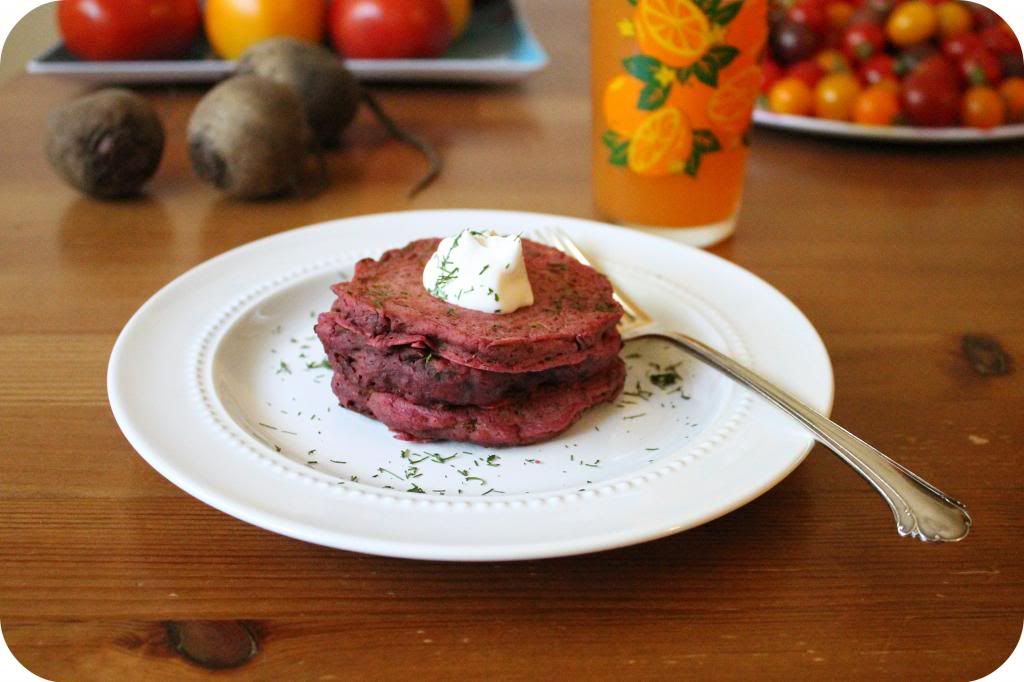 Hey friends, It's Wednesday, and well… I'm still working on packing up my apartment and trying to find some semblance of normalcy around here. Unfortunately, any sort of normal life won't be happening for me at least for a few more days until we get moved and I can start cooking in my amazing new kitchen (filled with so much more counter space, cabinets, and natural light!) and sharing with you again. Until then, like I said, I've got some friends helping me out.
Today, I have Sandra from Vegan Mother Hubbard, joining us, and I think her recipe is just brilliant. Don't be closed-minded. It's going to be rad, and you're going to love it. I know I can't wait to try this out!! Take it away, Sandra!
……………………………………………………………………………………………………………………………………………………………
Hello! I'm Sandra and I blog at www.veganmotherhubbard.com. I'm pleased to be here today, to share a recipe, while Holly is busy with the enormous task of moving into a new home. I hope you love this simple breakfast and that you'll stop by my blog for more great veg recipes.
We all know potato pancakes, right? And every summer I see of slew of zucchini pancakes in the blog world, as we're all trying to use up the copious amounts of garden-fresh zucchini we have on our hands. The day I made these pancakes, I had the intention of making plain, old pancakes. When I opened the fridge to get out the almond milk, I spotted some beets I'd forgotten about.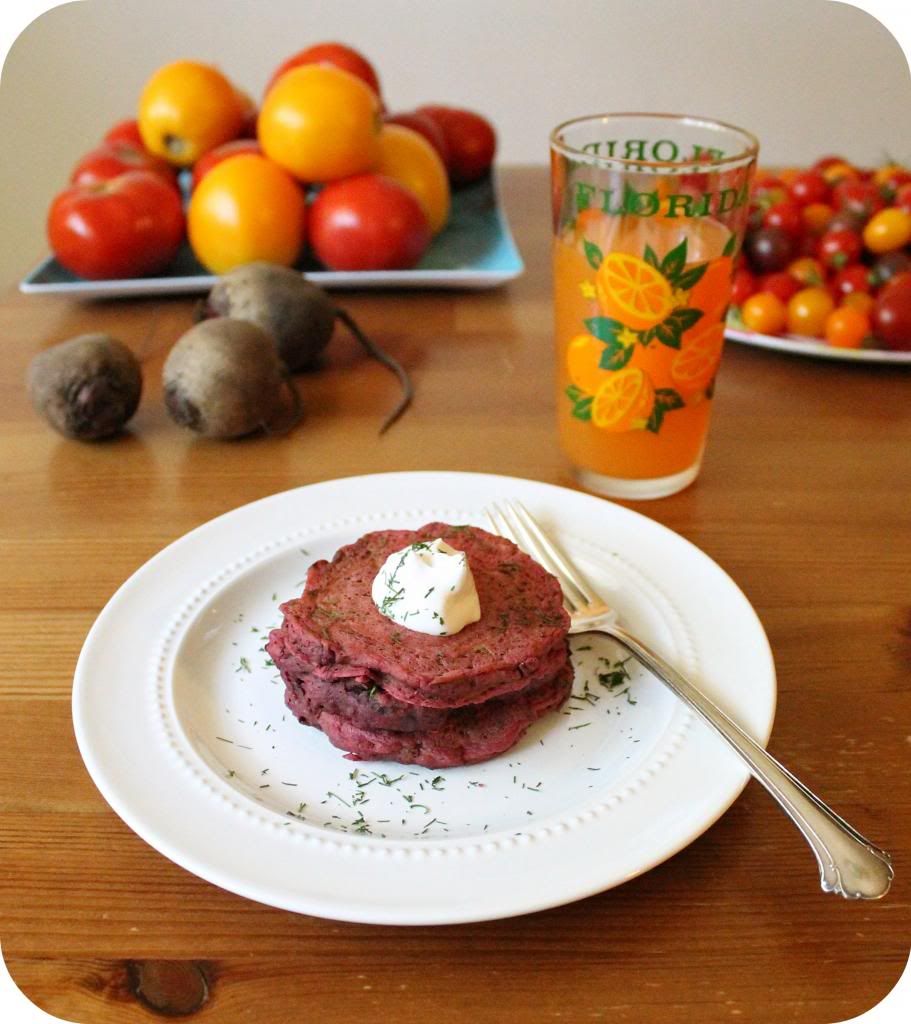 If you're a Vegan Mother Hubbard reader, you know I don't like beets. My daughters, on the other hand, eat them like they're candy. In fact, when I was shredding the beets for this recipe, my girls were reaching up on the counter and grabbing the shreds that were escaping the bowl, so they could eat them. Raw and unseasoned. Clarissa even tried to eat a piece that fell on the floor. You know, just your typical 3 year old eating habits.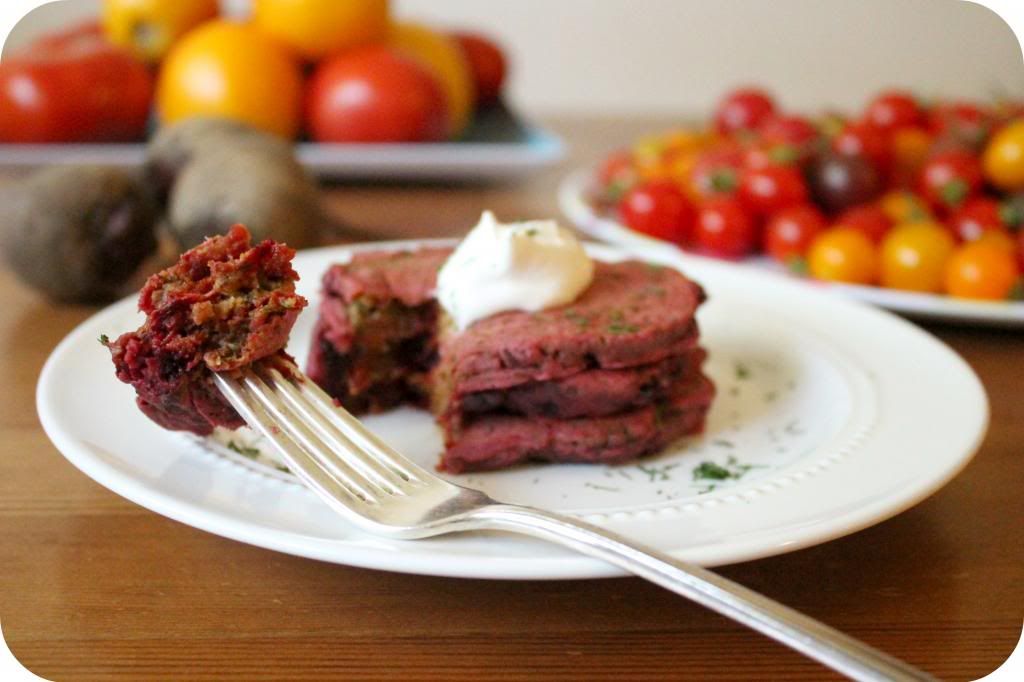 When I served up these pancakes, the kids were not disappointed. They ate well and without complaint. Aside from being beet fans, I think they enjoyed having such pretty cakes on their plates.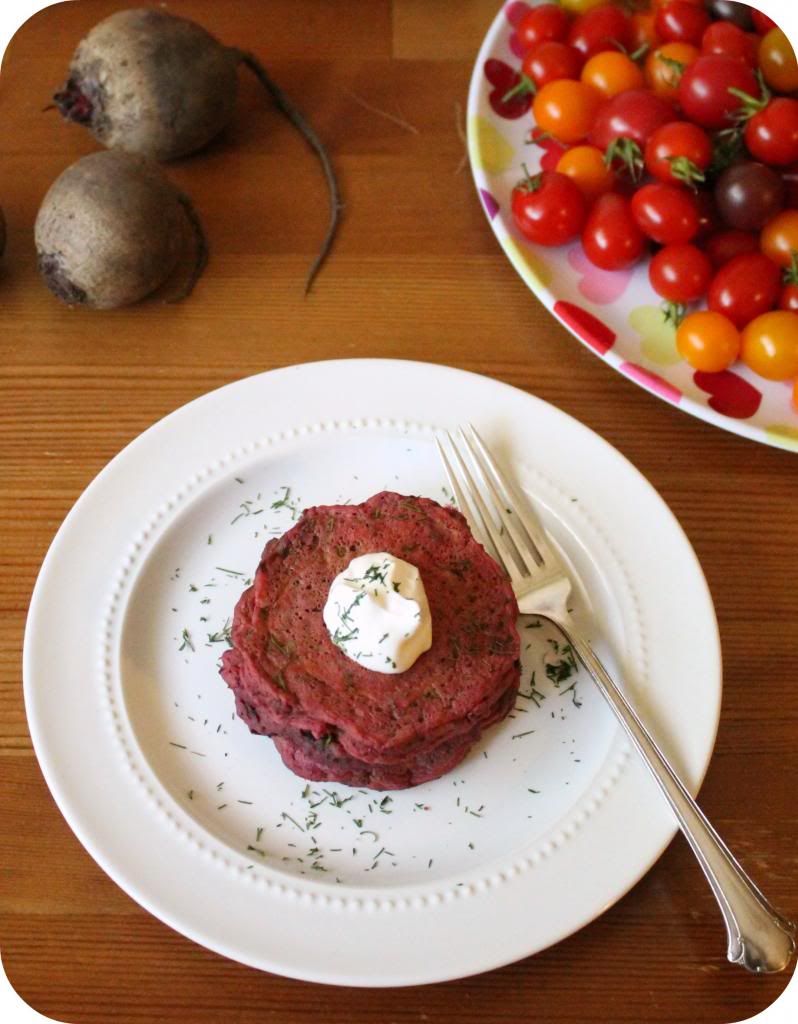 Does your family like beets? Would you eat these for breakfast? Or for a quick and nutritious supper? Have you worked any other unusual ingredients into pancakes, to make them savory? I'm always looking for new ideas, so please share!
Yield: about 12 pancakes
…………………………………………………………………………………………………………………………………………………………….
Wasn't Sandra just wonderful?! You've got to be sure to check out more of her scrumptious recipes! I'm seriously drooling over her Slow-Cooker Vegetable Lasagna recipe and will be putting it on rotation SOON!
Thanks Sandra! You come back soon now, ya' hear?!
You can follow any responses to this entry through the RSS 2.0 You can leave a response, or trackback.